The information below is from John's Defence Force Personnel Record, held by Archives NZ.
Biographical Details
According to his History-Sheet, his occupation was Shepherd, last employed by Robert Murrell, last New Zealand address was Manapouri, his religion was Church of England, and his birth-date was 14 September 1886 at Lumsden.
His next of kin was listed as Mr Robert Murrell, Father, of Manapouri, Southland.
His Attestation was dated 7 March 1917, at Queenstown. His birth-place was Lumsden, on 14 September 1886. His parents are cited as Robert and Margaret Murrell, both resident in NZ from birth. His occupation is given as Shepherd, from Manapouri. He had passed the Fourth Educational Standard. He was not married.
His physical description is given as: 30 years 6 months, 5 foot 7¾ inches, 150lbs, chest measuring 35½ - 39 inches, Fair complexion, Blue eyes, Dark Brown hair. His vision and hearing were normal. He was classified Fit Class A.
Service Details
John's service number was 59216. He was assigned to H Company 30th as a Private on 25 June 1917.
On 13 December 1917 he was taken in to the NZ Rifle Brigade as a Rifleman and assigned to A Company 5th Battalion
13 October embarked at Wellington and disembarked at Liverpool on 8 December 1917
On 13 December 1917 he marched into Brocton Camp and posted to the Rifle Brigade
On 6 April qualified as Marksman
15 May left for France, arriving on 17 May at Etaples
19 May joined the Battalion in the Field
8 June 1918 he was assigned to A Company of the 2nd Battalion, 3rd NZ Rifle Brigade
There is no record of a 'Will'.
Injuries
29 January 1918 at London admitted to Military Hospital Cannockchase with Bronchitis and Catarrh
18 March 1918 he was reported as Progressing Favourably
11 February 1918 he was discharged to Brocton Camp
September 8 1918, John Robert was Killed in Action in the field.
He was buried at Metz 57c, S.E.Q. 25a 10.50.
War Graves Commission record
Cemetery Plan
Details
Awards / Medals
He appears to have been awarded the British War Medal (Red Chevrons) and the Victory Medal (Blue Chevrons).
Demobilization Certificate
This lists his service as 114 days in NZ, 355 in UK, 1 year 87 days in France/Belgium and 56 days at sea, says he was wounded 2 times, and has employment guaranteed on discharge by Murrell, Manapouri Lake.
John Robert sent this postcard home to "Nan" - his grandmother. It is dated 16 March 1918, and reads "Dear Nan, Just to let you see how much like a soldier I look. Have just returned from a trip to Birmingham. It is some city but the drink traffic is its curse. Had a good time. Hope you and familty are well. From yrs sincerely Jack R. Murrell 59216" The image-side of the postcard has the studio portrait of John Robert shown above.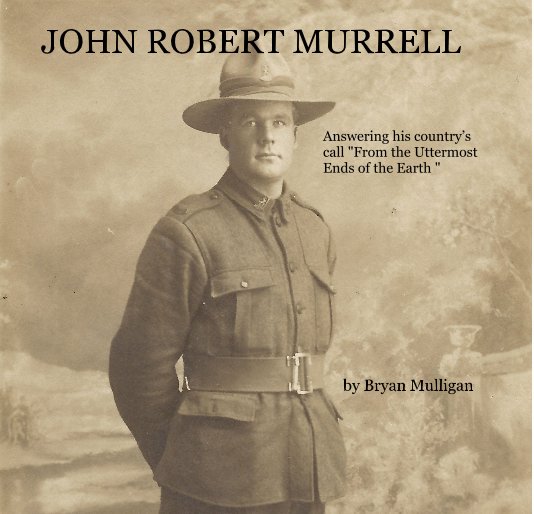 Buy your own copy of our
commemorative booklet
about John Robert